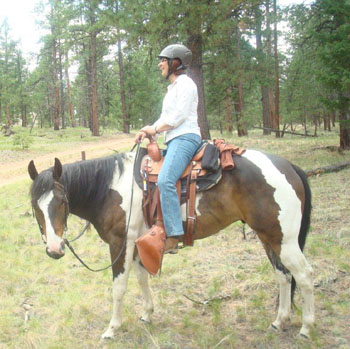 Riding and Driving Instruction
We offer horsemanship and horseback riding lessons, specializing in new riders, "renewing" riders, and riders who struggle with confidence issues. A lifelong student of equines, Kay has over 40 years of English and Western riding experience and 10 years of instructor experience. She loves long, rugged trail rides in the mountains, easier rides on the prairie, and mindful riding in an arena to explore the art of riding. She doesn't care if it's in a western saddle, an English saddle, or bareback. She loves to ride!
Kay is not hitched to any one trainer's methods, believing that doing so stifles knowledge and growth. Every horse, donkey, mule and rider team is unique to themselves and should not be pigeon-holed into a "my way or the highway" methodology. For an authentic experience, people must be allowed to communicate with their equine partner in a manner that is congruent with their personalities, as well as their equine's personality!
Kay promises private, no pressure, non-judgmental lessons with an emphasis on safety as we explore methods of connecting with your mount and discovering the power within you so that you may ride with joy, however you choose to do so! If you want to drive your donkey, we can do that too!